Circuit type idol festure which was held for the first time in Sapporo City, Hokkaido last year, and has been well received 【IDOL DIVERSITY】 (NoMaps). It was decided to hold this year again, and the live event ended successfully at Zepp Sapporo · DUCE SAPPORO on 10 / 14th 2017.
A total of 13 groups of idols who appeared. It is quite evident that every idol put in the power of the management side "NoMaps" that only the major idols boast of the popularity and ability of the nationwide district are included.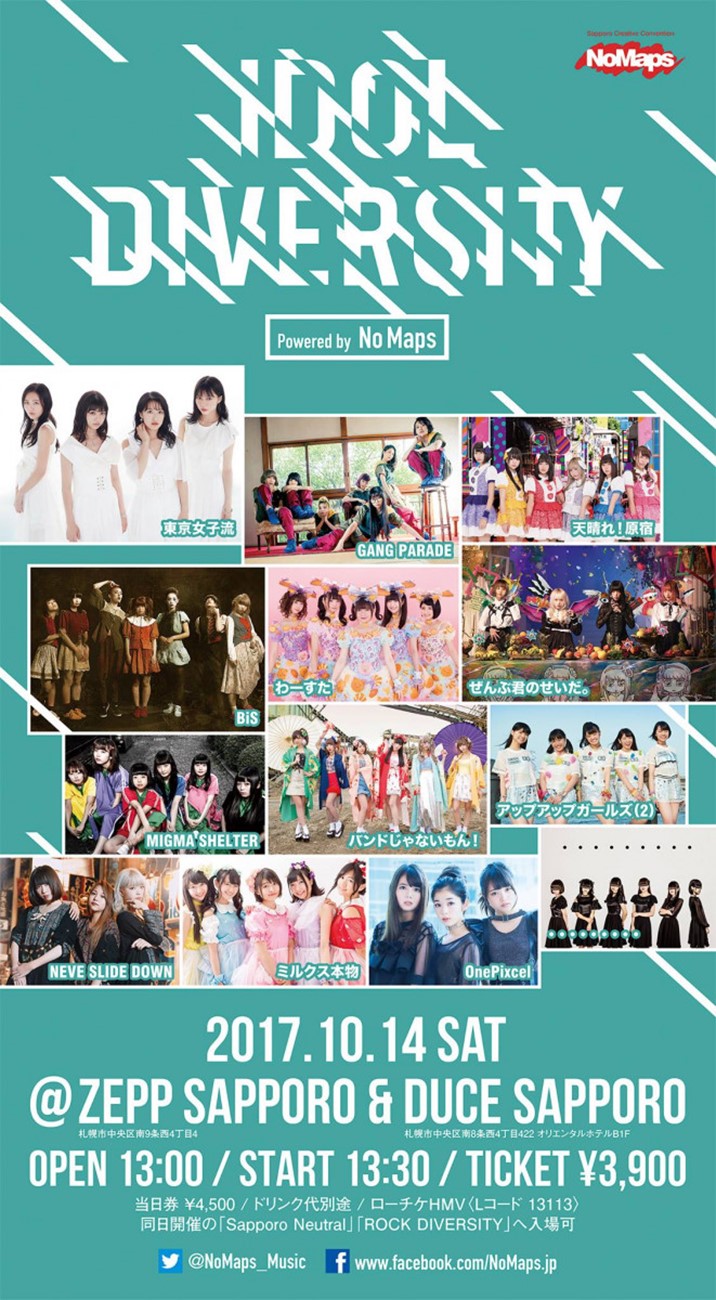 ZeppSapporo
天晴れ!原宿
ぜんぶ君のせいだ。
わーすた
GANG PARADE
バンドじゃないもん!
BiS
東京女子流
DUCE
アップアップガールズ(2)
OnePixcel
ミルクス本物
NEVE SLIDE DOWN
・・・・・・・・・
MIGMA SHELTER
I also saw all the acts on the site.
Every idol had the best performance, the venue was heat up.
As a result, my best choice is ….
GANG PARADE!
Both songs and performances were commanded, and the cheers of the fans were outstanding.
fabulous!
※ The pattern of the act on the day is here!
Also, at both venues, since the live performances of all the artists were completed for each venue, there was an overall rewards party, and many fans were engaged with the idols and the Cheki and handshake meetings.
As long as I am glad that there is such a fan service.
There is a new trial this year, using "certified application", the day that Zepp Sapporo appearance IDOL card game can be played. It was a good project of fan-sprinkling that you get a luxurious benefit such as high touch with all the idol and check-in shooting right when you win the top in this.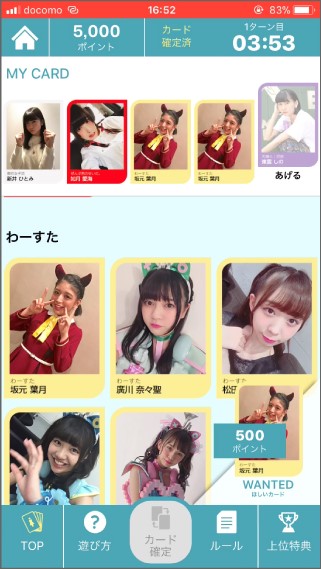 Looking back on the interview for the second consecutive year, it is a great success both this year and last year, it is the impression that it became the biggest idol festival in Sapporo.
Selection of acting artists is not only pretty, it is said to be so-called "music school", there are a lot of good idols with songs also good, there are only the male · WESS of Hokkaido live promoter involved in the selection, it can be said that it is a truly eyeshell .
We are also hoping to host the next fiscal year.
What is 【IDOL DIVERSITY】?
With the theme of "diversity of idols", groups that are committed to musicality, performance and presence gather together, and boasts the largest scale as an idol event to be held in Hokkaido. It is one of the major music events of International Creative Convention "No Maps (Nomads)" that combines movies, music and interactive content to be held in Sapporo this year is held for the second time.
Date and time October 14, 2017 (Sat)
Venue Zepp Sapporo / DUCE SAPPORO
Venue location
DUCE SAPPORO
Sapporo-shi Chuo-ku Southern 8th West 4th Street 422 Oriental Hotel B1F
Zepp Sapporo
Sapporo-shi Chuo-ku South 9 – West 4 – chome 4
Photo courtesy: No Maps Executive Committee